Venture to Alaska
Visiting Alaska today displays some differences from the Alaska I knew when I lived there some years ago.  Global warming is having a more noticeable effect up here...glaciers are receding at an ever accelerating rate for example.  More people live here than formerly...especially in Anchorage.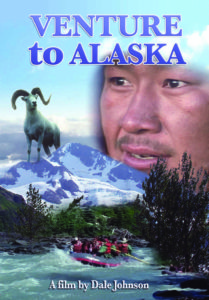 However, there is still adventure in this State, which can no longer be called 'the Last Frontier' with any degree of honesty.   But, vast areas of lonely forest and mountain still exist in places...even as humans endeavor to change that.  Wild creatures are still to be seen, though difficult to see from Alaska's highways any longer.  One exception is moose.  Sometimes they can be seen right in the city of Anchorage.  For me, that too is a change, but we'll see it in my new film.
Driving up the Dalton Highway from Fairbanks to Prudhoe is still an adventure.  Closed to the public when I lived in the State, I had driven it many times in the course of my filming in northern Alaska.  Now anyone can drive it.  It is still the main supply route for the oil fields of Prudhoe and it is still trucks that comprise most of the traffic along this gravel/dirt road.  It takes us through the very heart of the Brooks Range and along the western border of ANWR (Arctic National Wildlife Refuge) which has come to national attention because of speculation about it's potential for oil.  We'll visit there and see some of the wild creatures that currently make it their home. 
Wales, Alaska is the westernmost point on the North American Continent...60 miles from Russia.  It has been inhabited by Inuit Eskimos since at least 600 B.C.  Eskimos on both sides of the Bering Sea, Alaska and Russia, speak the same language.  It is still an Eskimo village today, but western influence has promoted changes, as you might expect.  One American Caucasian man from California has been here for 30 years.  Married to an Eskimo lady, he is a resourceful and energetic man, solving a myriad of problems in his corner of Alaska and how he does it is a story in itself.  The villagers still meet to practice their ancient dances and try to preserve the culture through their children. 
Surprisingly, Alaska has a farming tradition, with limited economic influence.  But it does go on in this State.  What they have that is almost unlimited in the summer, is lots of sunshine.  In the Matanuska Valley, about 40 miles north of Anchorage, the abundant sunshine propels vegetables to grow...and grow.  A beet of 32 pounds, 80 pound cabbages, a 168 pound watermelon, 13 foot high corn stalks, and surely the winner anywhere, a 942 pound pumpkin.  Twenty-two hours of sunshine each day prompts such surging growth...perhaps unique to Alaska. 
We will visit Anchorage, Fairbanks, and the Capitol of Juneau.  Probably the only Capitol city that cannot be accessed by auto. There are no roads or highways connecting Juneau to the outside world.  You must fly in or arrive by boat to get to this City. 
Salmon fishing and processing are a main industry in Juneau and Southeast Alaska.
The Women's 4th of July Race up Marathon Mountain near Seward on the Kenia Peninsula, displays Alaskan toughness.
People too, catch huge salmon, sometimes standing cheek to cheek to do so.  At other times fisherman may fish a river in total isolation from any other human.
Alaska is full of surprises, flamboyance, astounding scenery, intimate portraits of wild creatures at their own work, a tossed salad of people in cities, villages and isolated outposts.